The latest report on Artificial Intelligence Readiness by Oxford Insights shows that Vietnam ranks 55th globally (7 places up compared to 2021) and ranks 6th out of 10 ASEAN member countries in the Global AI Readiness Index for 2022. 
Vietnam's average score reached 53.96 (increased by 2.14 compared to 51.82 in 2021), surpassing the world average (44.61). The world's top is the United States with 85.72, followed by Singapore, the UK, Finland, Canada, South Korea, France, Australia, Japan, Netherlands.
The report assesses the Global AI Readiness Index of 181 governments in utilizing AI applications in operation and governmental service delivery. The 2022 assessment takes 39 indicators into account across three pillars (Government, Technology capabilities, Infrastructure, and Data) and 10 elements falling into the categories of infrastructure, data availability, data representativeness, human resources, innovation capacity, scale, adaptability, digital capabilities, management, ethics, and vision.
Through the survey, it is hoped that governments will be able to learn from the top countries how to fully integrate AI into public services. Especially in the 2022 edition, ASEAN technology is expected to develop rapidly. Among the 9 East Asian countries with Unicorn enterprises (enterprises worth US$1 billion or more) in 2022, the Philippines, Malaysia, and Vietnam announced new companies that meet the criteria.
Vietnam is recognized as a potential; a destination for technology industry development, considering the "golden age" population, excellent IT human resources, profound technology skills, and high adaptability to digital transformation solutions.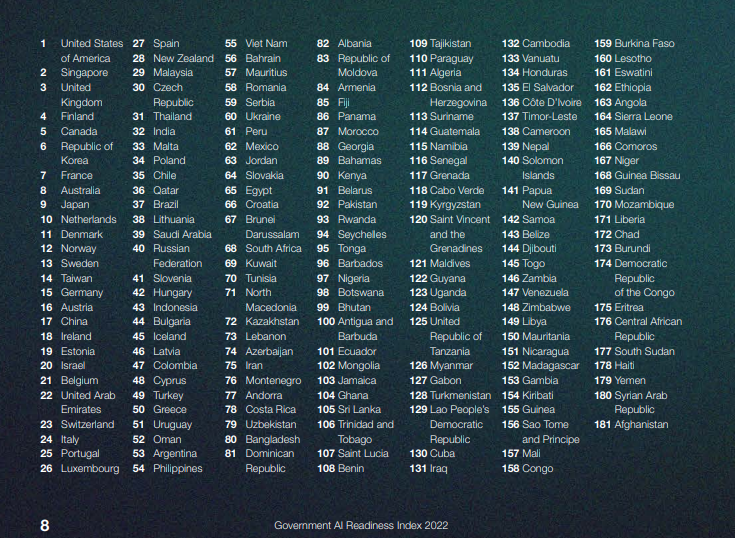 Against this background, VTI Group is committed to accelerating DX innovation in Vietnam as well as other countries. We provide custom-made AI – IoT solutions for enterprises across diverse industries. 
Our feature AI-IoT solutions:
FaceX

: Face recognition attendance management system using AI technology. Up to 20,000 faces can be stored and recognized at 99.7% accuracy.

ParkingX

: A high-performance vehicle license plate recognition system using AI technology, that automatically recognizes plates within less than 1.5 seconds.

BusEye

: Bus Operation & Fleeting management system synchronized between managers, drivers, and bus-takers.

LogX

: Real-time positioning and safety alert system.
Our highlight use cases:
DX In Retail: Proactive Work Schedule Management
The customer operates approximately 2,000 convenience stores. VTI proposed a new website that centralizes work schedules that automatically updates work data, replacing error-prone Excel methods. This saves time and manpower, contributing to cost reduction.
VTI developed a management system with a cashless payment and monitoring system for 200 customers' unmanned stores. This makes the payment and management process easier and faster.
If you have any doubts or worries, we recommend our consulting services. Contact us now and get started with your digital transformation journey.
VTI – Innovation Technology Value
Hotline: (+84) 24 7306 9996
Email: [email protected]
Facebook: VTI