According to Fortune Business Insights, the market for artificial intelligence (AI) in the retail industry is expected to grow from $4.84 billion in 2021 to $31.84 billion in 2028. In recent years, the AI ​​adoption rate has increased, and many companies chose this cutting-edge technology out of necessity. However, not all companies understand and be ready to grasp the benefits of AI to boost their performance. Therefore, this article will introduce briefly the recent trends of AI, the advantages when adopting AI to business, and some telling use cases in the field of retail.
1. The global adoption of artificial intelligence (AI) in the retail industry
According to the Global AI Adoption Index 2022, the global AI adoption rate is 35%, 4 points higher than the previous year. Around half of the organizations participating in this annual poll from IBM are seeing the potential for applying AI to automate many steps in their business processes, including cost efficiencies (54%), improvements in IT performance (53%), and enhanced customer experiences (48%). Many companies have put AI into their long-term strategy, as only one in five companies today don't plan to use AI.
There are many barriers that prevent companies from adopting AI immediately, such as the lack of AI skills or expertise in their tech department, high prices, complex projects that cannot be integrated easily, etc. However, as the advantages outweigh the disadvantages, we can see that the interest in AI has been shown remarkably in many countries around the world recently.
2. Advantages of applying AI to the business
2.1. Cost reduction
Research on AI (2020) showed that deploying AI in the retail industry could save $340 billion annually, where 80% of the cost savings will come from AI-powered supply chain management systems and improved returns. In addition, AI tools also support cutting down labor costs, utility costs, etc. which eventually will save a significant amount of money for businesses.
2.2. Improving customer experience
According to PwC's "Future Customer Experience" report, over 70% of consumers think that speed, convenience, friendly employees, and friendly service are the keywords that describe top demand for quality customer experience. AI can be a good solution to improve or satisfy many of these factors for potential customers. There are many successful case studies of AI applications in the retail industry such as AI smart payment terminals, virtual assistants, virtual fitting systems, etc. Recently, the AI demand forecasting system has attracted a lot of businesses with its ability to analyze customer behavior and purchase patterns to predict customer future demand, allowing stores to provide personalized services and promotions.
2.3. Data protection
Data is one of the invaluable assets of every company nowadays. A cyberattack is a true nightmare, especially for companies in the retail industry. However, AI technology could help businesses prevent risks as it can detect anomaly patterns in data sources in real time.
2.4. Decision support
According to Chatbot Magazine, 44% of professionals think that the most important benefit of AI is to unlock customer insights to help businesses and stores make decisions. For example, we can analyze data from previous campaigns, transactions, expenses, etc., to find out the trends, patterns, preferences, and needs so that we can plan better, especially when they need to perform well in a budget.
3. Top 10 significant trends of AI in the retail industry – updated 2023
3.1. Unmanned store
Due to the impact of omnichannel trends and the COVID-19 pandemic, the number of unmanned stores has grown exponentially since 2020. Many giants in the retail industry have adopted unmanned stores, such as F5 Future Store, Amazon Go, Moby Mart, BingoBox, Tmall, and so on. Basically, there are two categories of unmanned stores, namely: fully automated stores, and semi-automated stores. A fully automated store refers to a store where cleaning, stocking, food replenishment and display are all performed by robots. A semi-automated store refers to a store where all the operations are carried out by robots, and humans are in charge of the important tasks. In the market, about 91.6% of existing unmanned stores are semi-automated ones (updated 2019). Some systems that integrate with IoT tools can allow store managers to manage all the items in the stock and decide when to receive them, which products are favored, and so on.
3.2. AI chatbot as a virtual customer service assistant
According to the National Retail Federation (2018), 54% of online customers said they chose brands for the main following reasons:
Ability to find items you like easily and quickly (58%)
Good customer service (44%)
Quick and easy checkout (42%)
All of these factors can be improved well with the help of AI-powered chatbots. The chatbot, which combines the technology of big data analytics and artificial intelligence, can quickly extract customer demand and insights, recommend products, make inquiries about products by keeping a huge amount of data from old transactions, and support the sales department for pre-orders requirements. A 2020 survey found that nearly 40% of American consumers have interacted with AI chatbots when shopping online, showing that these chatbots are becoming more and more popular and that every retail business should adopt them eventually.
3.3. AI in retail for demand forecasting and inventory optimization
Demand forecasting systems that combine AI have been attracting the attention of many companies in recent years. AI-powered demand forecasting using machine learning algorithms has many outstanding features compared to similar systems in the past. It can process huge amounts of data and analyze it smoothly with high accuracy. According to Mckinsey Digital, an AI-demand forecasting system can reduce up to 50% of errors encountered in spline chain networks, and cut down 65% of lost revenues due to out-of-stock. By analyzing factors such as customer behavior patterns, we can grasp the demand for each item, optimize purchasing and inventory, and plan discount campaigns for sales promotion.
3.4. Contactless system using AI
Due to the pandemic, it becomes evident that contactless systems will be chosen sooner or later. Many companies start using intelligent devices adopting computer vision, such as cameras using face recognition for attendance checks, and payment with the intelligent terminal. At Amazon Go stores, check-in, payment, and check-out can be performed in real-time simply by having a smartphone equipped with the Amazon Go app. Customers don't need to stand in line for a long time or come into contact with other people, "just walk out".
3.5. Support product display
Through an AI-based product demand forecasting system, we support decision-making on where products should be positioned by more accurately predicting the number of purchases and arrivals. This system often works with robot arms so they can support replenishing and displaying products on behalf of humans. Furthermore, not only it can reduce costs for businesses but also contribute to protecting the environment by reducing the amount of discarded products.
3.6. Price optimization with AI in retail
Utilizing machine learning algorithms and big data, AI technology can help companies leverage their pricing strategies by seeing how customers react to different price points of a product, analyzing competitors' price ranges, and developing better discount campaigns. For example, one supermarket has locations both in urban and rural areas. The rural branches may find it difficult to hire experienced employees who can handle the data analysis and gain insights from customer behavior patterns smoothly. However, AI tools can support pricing strategies, synchronize the information between the head office and bases in many parts of the country, and many important tasks for the store clerk.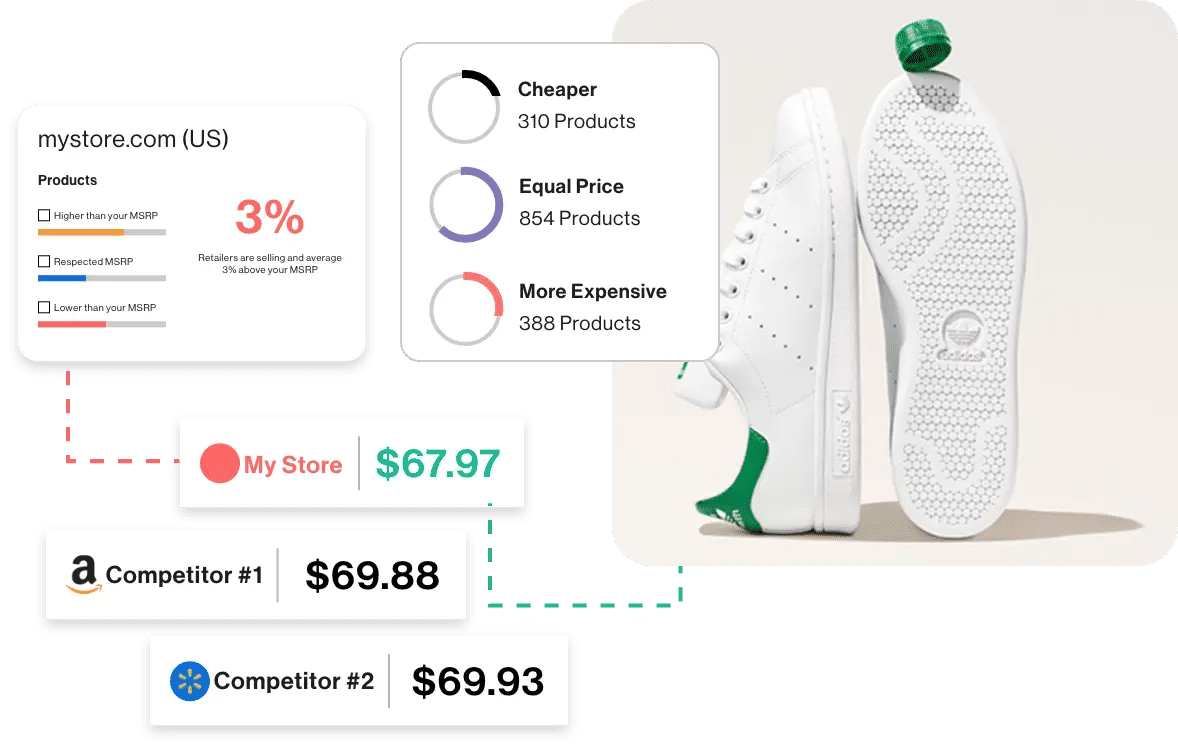 3.7. Improving customer experience with virtual assistants
Virtual assistants are considered a useful tool to boost customer experience. Its two main roles are customer inquiries and product recommendations. Some typical questions that potential customers can ask anytime can be answered by the virtual assistant immediately when the store clerk is away. According to a survey, 53% of respondents who visited a store through virtual voice when they are looking for a product decided to buy the product recommended by the virtual assistant. The respondent said that the product recommended by virtual assistants met their needs and wants, and satisfy their requirements.
3.8. Virtual fitting room
The virtual fitting room that appeared 15 years ago is a technology that has developed rapidly in recent years after successfully combining AI, VR (Virtual Reality), AR (Augmented Reality), etc. In the virtual fitting room, customers can see the image of themselves wearing their clothes without having to change too many clothes. It helps prevent returns while improving the customer experience. The virtual fitting room market is projected to grow from $2.97 billion in 2021 to $8.5 billion in 2028.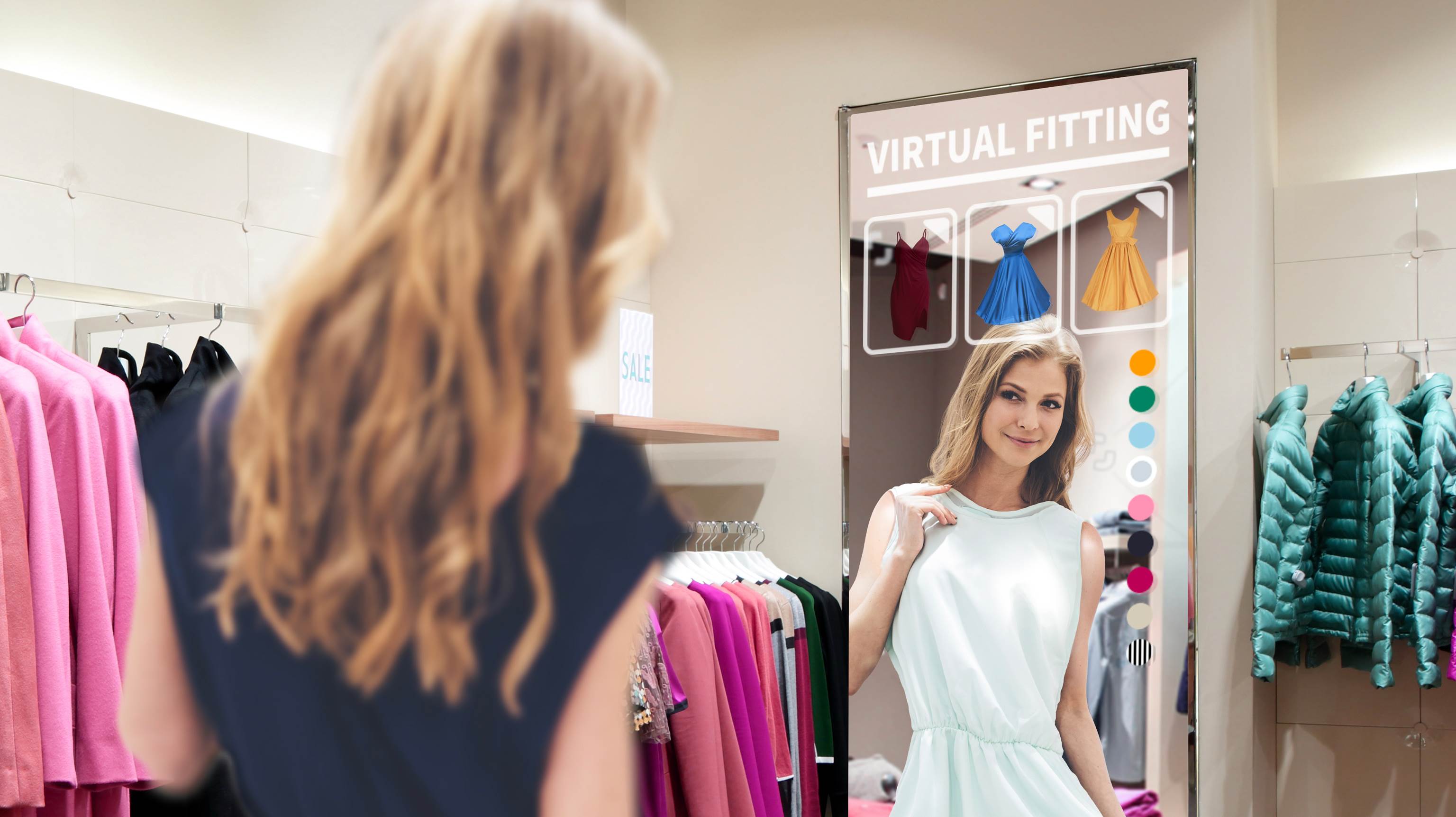 3.9. Supply chain management with AI technology
We have introduced the strength of AI-powered demand forecast systems above. In terms of supply chain management for retail business, AI can predict the quantity or types of good that are favored at a particular store. Moreover, it can support orders from various vendors, manage containers, track goods on routes, and so on. AI can help store clerks minimize the risks in many circumstances, such as when some items are out of stock during high-demand periods or over-ordered items during promotion campaigns that can prevent customers from buying them.
3.10. Recommendation system powered by AI
Research and development departments of retail companies can adopt new product designs recommended by AI. AI analyzes a large amount of data from many sources, such as the existing product designs, customer opinions & feedback, and open sources from the Internet, etc., then takes a look at the company's vision and goals. It will recommend a design that fits the business's sales strategy. Not only that, recommendation systems can be installed on e-commerce sites. With an AI-powered recommendation engine, customers can use a few keywords that describe the products they are looking for. AI will analyze all the personal data from the account (age, gender, search history, old transactions, etc.) while giving recommendations based on the keywords. The decisions that customers make will help AI learn more about customer behavior, and eventually, the company can understand the customers' needs and wants in e-commerce stores.
4. VTI's AI one-stop solution for retailers
VTI provides one-stop solutions for digital transformation and business growth by utilizing cutting-edge technologies such as AI. VTI has retail know-how gained from our experiences when working with over 200+ business clients from Japan, Korea, Vietnam, and many countries around the world. You can get customized solutions integrated with the latest technologies that will fit well into your business operations.
>>> Learn more about VTI's Retail Solutions HERE
VTI has worked with over 500+ customers in many parts of the world, with some telling case studies below:
Work schedule management
The customer operates approximately 2,000 convenience stores. VTI has helped shift work scheduling from using mundane methods such as Excel to a smart system with the ability to automatically update work item data. It saves time and manpower, leading to cost reduction.
In-house procurement system
VTI has developed an ordering and inventory management system on AWS that meets customer requirements. It has contributed to simplifying the operation process and reducing costs.
Demand forecasting and planning assistance by AI
We provided customers with an AI application that can predict market demand and order volume with high accuracy based on order history and product information. This has resulted in optimizing order and production volumes, increasing sales by 7-10%, and reducing returns.
Unmanned store solution
We developed a management system with a cashless payment and monitoring system for 200 customers' unmanned stores. This makes settlement and management easier and faster.
Customer loyalty application
We have developed an easy-to-use app for both iOS and Android that has a point accumulation function that meets customer requirements. As a result, the number of users of the app has reached more than 160,000. It has been well received for its good customer experience.
In-store heatmap
Our client is a retail company with operations all over the country. From the early days of the COVID-19 crisis, as a measure to improve sales, we introduced groundbreaking technology and heat maps ahead of time, and as a result, sales remained strong even during the severe COVID-19 situation.
>>> Read more about VTI's in-store heatmap solutions HERE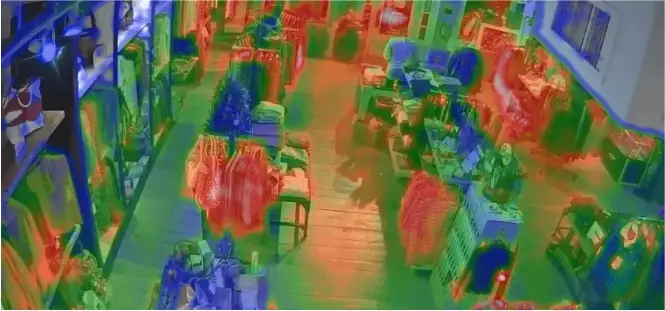 Conclusion 
In the ever-changing times, adopting cutting-edge technology like artificial intelligence (AI) in retail will help companies stay competitive. With VTI, retail businesses can focus on their expertise with optimum AI solutions developed by our experienced IT experts. If you are looking for a solution to adopt AI into your business in the future, do not hesitate to contact us for more information.
VTI – Innovation Technology Value
Hotline: (+84) 24 7306 9996
Email: [email protected]
Facebook: VTI