In this case study, we will explore how a big convenience store chain can successfully modernize their outdated system while maintaining their daily operations smoothly with VTI's IT outsourcing services.
A leading retail & convenience company in Japan
For a long time, company M – a retail giant in Japan, has been famous for adopting cutting-edge technology to bring the customer experience to a whole new level. Since 2017, along with many retail giants, they pioneered in adopting cutting-edge technologies into their services, such as integrating smart devices to implement cashless payments, introducing unmanned stores which can operate 24/7 with minimum human effort, etc.
Unlike what people expected, technology is not their core strength. For decades, company M has kept on using a fixed system. Until one day, they realized that this system protected them from updating new features, resulting in an inefficient workflow and an inability to follow new demands from the market.
It wasn't easy to transfer an enormous amount of data, as well as a whole system, into a new one, while maintaining the daily operations of the 2,000-store chain in Japan, and over 140 stores overseas. However, after several years of migrating, slowly but surely, they have managed to maintain their position as a leading convenience store chain in Japan. Moreover, they didn't have to expand their technology department, or overspend on technology. 
When working with VTI, we have brought an optimum solution for them, and we can find out in more detail later in this case study.
The urge to modernize
Back in 2018, when company M first met VTI, technology started creating a significant impact on the retail industry. Some changes were inevitable for all companies to stay competitive in the market. Many retail giants have adopted data analytics tools using AI algorithms to research consumer behavior, analyze transactions, and predict future trends to optimize sales and supply chains.
The growth of e-commerce and mobile app development in the retail industry has changed the game remarkably under the impact of the COVID-19 pandemic. Many traditional brick-and-mortar convenience stores cannot compete with e-commerce sites, as they provide more attractive deals, make purchases easier, and handle safety concerns during lockdown phases.
COVID-19 also put pressure on many retailers to upgrade their workflow, integrating modern tools and systems to work effectively and flexibly. Not all employees could work onsite, and companies had to set up their new working environment online to ensure a smooth workflow when working remotely. If retailers and convenience store chains could not overcome these challenges, their market share would be taken over by rising e-commerce sites, as well as their loyal customers' expectations.
Difficulties when modernizing the retail system
Even when modernization and digital transformation were critical to the future of company M and many other retail companies, it was difficult to switch to a new workflow and new system, after years of getting used to the existing ones. The cost was also a huge matter, as renovating a whole system required a great deal of investment. If companies could not optimize their expenses or build a suitable system, the results might not help but harm them.
Under the pressure of the COVID-19 pandemic, businesses had to not only deal with the challenges in the market but also maintain all of their activities as usual. Therefore, when choosing to modernize the system, company M had to ensure all the changes would not disrupt their daily business activities.
Approaching IT outsourcing service
While searching for an optimal solution for their modernization plan, VTI had the chance to approach representatives of company M at a tech expo in Japan in 2018. The representatives of company M found out about IT outsourcing, or IT offshore, where companies can work with IT experts remotely, pay by project, and guarantee the quality of the final outputs. This solution not only saves the company expenses for hiring and training IT employees as usual but also the expenses to get good IT solutions for them in a short time.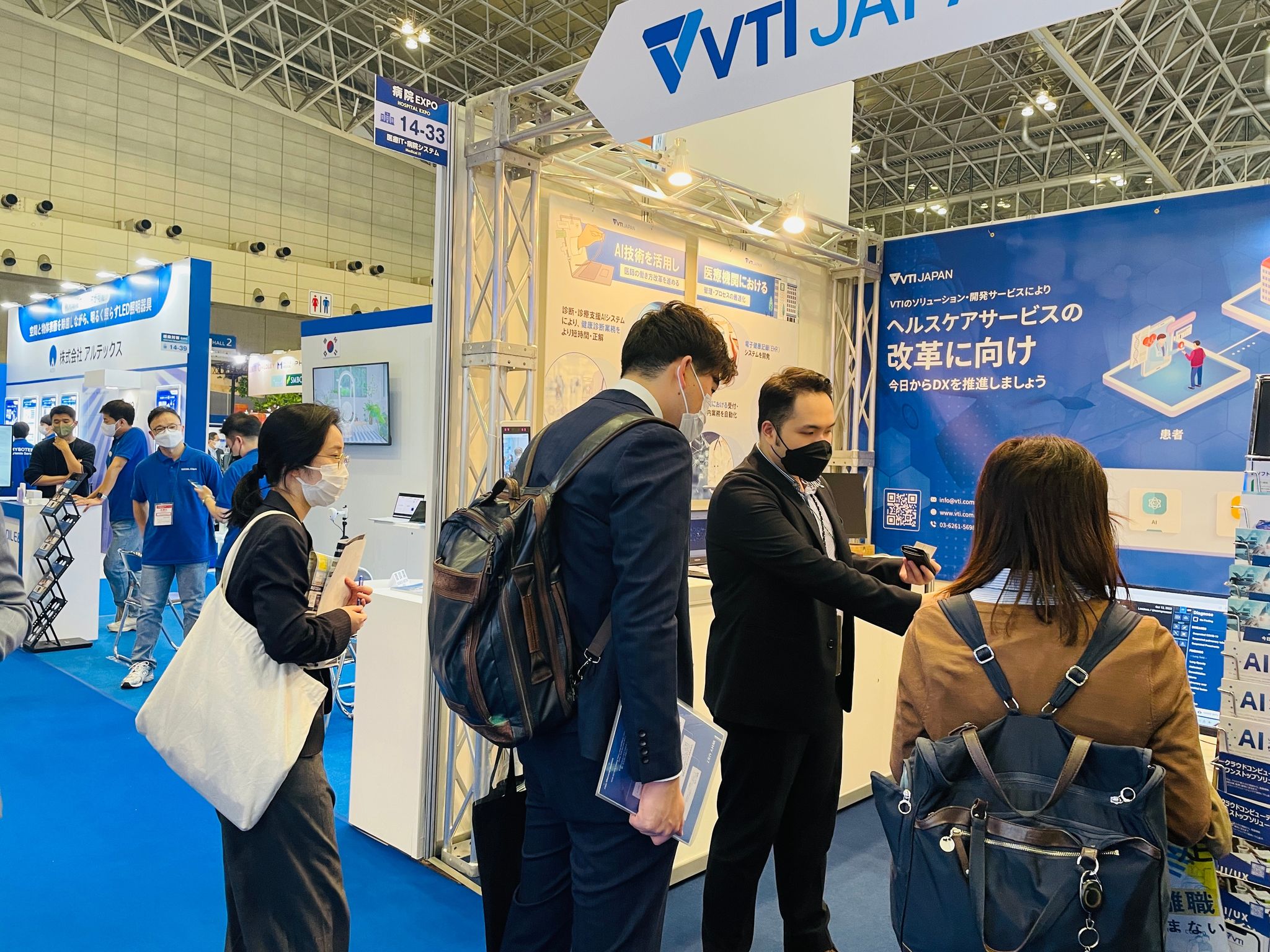 Like many other companies that have never worked out a project with outsourcing teams before, there were many reasons that kept company M from choosing VTI to work on their big projects, including:
The IT outsourcing team cannot work well with the in-house, due to the differences in languages and the working conditions

The IT outsourcing team cannot understand the specific requirements in retail systems, thus cannot deliver suitable solutions in a short time
Like any other type of collaboration, it is essential to gain the trust of the client through performance and results. VTI offered company M to run a pilot project. During this project, a representative will work onsite at Company M's office to learn about the business process, and new requirements, and complete the documentation, before implementing a solution for Company M.
This project is a good opportunity for both sides to get to know the working styles, as well as articulate the real needs and demands of company M to deliver the best solutions. When working with VTI, this pilot project is also called the SET UP step. 
After the SET UP step, company M became familiar with the workflow and both outsourced and in-house teams can work together well. Especially with the contributions of the BrSE who can connect and integrate the work culture and transfer the requirements from company M, the outsourcing team from VTI showed the ability to bring out quality outputs that could satisfy the expectations of company M. 
Moreover, this was not the first time company M had worked with an outsourced team – it was a local SI. However, even when they had little or no barriers from language, culture, or location, their lack of technical competency of theirs could not handle all the requirements of company M.
Gaining trust
At the end of the SET UP step, VTI team finalized the needs and wants, as well as the scope of the project with the client, all the know-how and processes will be transferred from the onsite team to the outsourced team. In this step, the team will run tests on a small scale. They moved to the second step called SCRATCH. In this phase, a labo team of 4 employees was created to work solely for company M's project.
Since then, VTI was trusted to be assigned to more projects and tasks from company M. Up to 2020, after 2 years of collaboration, we managed to migrate the existing system to AWS infrastructure, solving the biggest project of company M to modernize their system. The number of VTI employees working onsite at company M's office doubled, and the size of the labo team kept on increasing. 
To ensure the quality and performance of all Company M's projects, a backup leader was selected and trained. A plan was also made to ensure adequate resources for scaling, after receiving feedback from the tests in the SCRATCH step. The development team will get prepared for the implementation process, and STABILIZE with the new modern system.
As the project grows with new requirements and improvements, the development team has to SCALE up. The team now has the industry know-how and process to take part in operations and maintenance for the client. Each sub-team will be monitored by a BA/PM, and an ODC manager will be in charge of the whole outsourced team.
VTI 4S roadmap and achievements
Until now, VTI has had the honor to work with company M for over 5 years. The total number of tools we have developed successfully for company M was over 40. The labo team, starting from a small team of 4 members in 2018, now increase to 50 members working solely for company M's projects.
Company M is a telling case study that shows the effectiveness of IT outsourcing models, as well as a good opportunity for VTI to improve our 4S roadmap model – a model that is designed to bring out the best experiences and outputs for clients when working with VTI.
Why work with VTI?
With many advantages, IT outsourcing will become the ultimate solution for businesses to stay competitive in the future. At the same time, companies can focus on their field of expertise, while getting modern technology integrated into their operations at an economical price.
VTI Group is the leading technology company in Vietnam. VTI provides one-stop solutions for business growth to all-scale companies in a wide variety of industries such as Manufacturing, Retail, Transportation, Finance, etc., and supports customers' business growth through the digital transformation business.
VTI supports retail companies in their digital transformation (DX) journey, catching up with the latest trends in technology and the field of retail/e-commerce. When working with VTI, retailers can have the chance to:
Optimize the costs

for development, maintenance, and modernization of their systems, software, and tools;

Strengthen the scalability

of the system under high traffic periods;

Integrate new technologies

as well as new tools to create a competitive omnichannel sales system.
———-
VTI – Innovation Technology Value
Hotline: (+84) 24 7306 9996
Email: [email protected]
Facebook: VTI