Software outsourcing is no stranger to the IT industry. The world is currently offering more than one destination to outsource to: Northern and Southern Europe, Western and Eastern Europe, Asia, and so on. Having all these opportunities at their fingertips, project managers will inevitably be confronted with the decision of the "best" country to outsource to. How these countries vary in terms of software development and which direction would meet their business needs – each project will have its own criteria. This article will suggest a list of top IT outsourcing countries and elaborate on their highlight features. 
1. India
India has long been the world's leading IT outsourcing country for the biggest brands.     
Cost

: $19 – $40 per hour

Time zone

: GMT+5:30

Human resources

: India has a population of over 1.2 billion people and 3.1 million graduates annually, 2.6 million of which are STEM (Science, Technology, Engineering, and Mathematics) graduates. This can be explained by the fact that Indian education heavily focuses on mathematics.

Communication

: India is the world's second-largest English-speaking country (

according to BBC

), easing communication when working with Western clients. On the other hand, however, Indian English is considered to have a strong local accent. It might therefore be a double-edged sword and pose a hindrance to communication.

Facilities

: Being one of the leading IT outsourcing countries as it is, India still confronts unstable internet connection and electricity, leading to occasional power outages.

Skill set

: Indian IT outsourcing service offers cutting-edge telecom, cellular network, and ISP. Indian developers are strong in maths and logic (they outscored Americans by 11%). However, their score was tremendously lower when it came to PHP and HTML, so a piece of advice for managers would be to verify the vendor's track record in case of web development. 

Politics & culture: Indian government is stable and has established policies on the economy, GDP, and tax that support the IT industry.
2. China
When it comes to top Asian IT outsourcing countries, China is probably the first one on one's mind. The IT outsourcing market in China is growing by 30% every year.
Cost

: $19–$38 per hour

Time zone

: GMT+8

Human resources

: China is the IT hubspot for the fastest-growing companies as there are 4.7 million technical graduates annually. 

Communication

: Out of 1.3 billion people in China, only 10 million speak English, which means nearly 1 in 100 Chinese can speak English. This poses an inevitable barrier to communication for English-speaking clients. 

Skill set

: China's top software outsourcing projects involve data structure, Python, Shell, and functional programming.

HackerRank 2016

voted for China as the winner if there were a hypothetical programming Olympics.

Politics & culture

: China has enforced strictly Intellectual Property laws, which, however, can be solved by outsourcing to a reputed IT outsourcing vendor.
3. Vietnam
Vietnam is considered the next "Silicon Valley" of Southeast Asia in recent years. Big names like Microsoft, Intel, and IBM have all invested in software development in one of the rising IT outsourcing countries in the market. For the last several years, the software industry in Vietnam has grown impressively at a rate of 10% per year.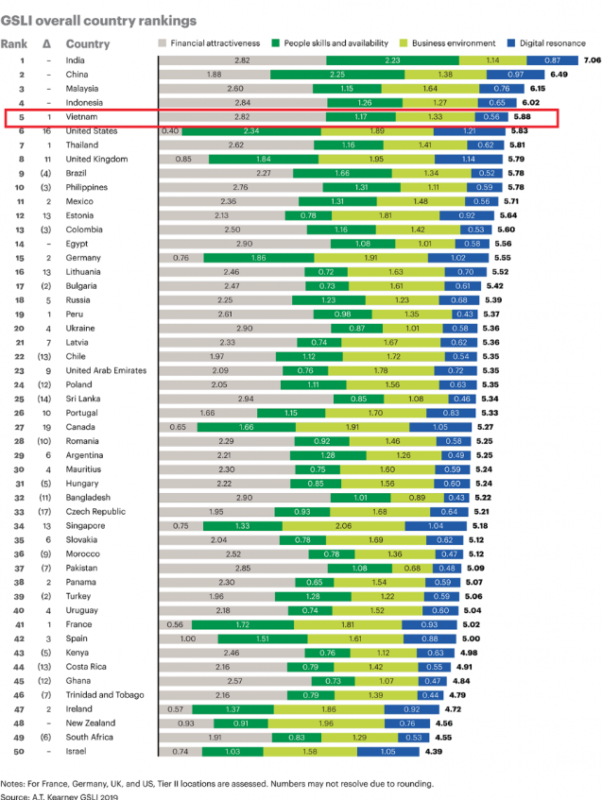 Cost

: $18–$22 per hour

Time zone

: GMT+7

Human resources

: Vietnam is most talked about for its "golden age" generation: 75% of the population is under 35. There are over 400,000 people working in the IT industry in 2020. 290 universities and colleges offer IT courses. Vietnam ranks in the top 10 countries with the most graduate engineers globally (100,390) (

Statista

). The developer level is qualified to meet the IT market demand, with junior developers taking up 42%, and middle-level accounts for 33%

Communication

: Regarding English proficiency, Vietnam ranks 66/112 countries in EF English Proficiency Index (2021). Vietnamese engineers prove their English skills to be around the upper-intermediate level.

Skill set

: Vietnam is specifically strong in Artificial Intelligence. Vietnam ranked 3rd in AI competency according to

HackerRank 2016

. According to USnews, Vietnam is widely perceived as one of the top countries for web development outsourcing. 

Politics & culture: Vietnam's political atmosphere is stable and supportive of a friendly economic environment in general and the IT sector in specific.
Read more: Top 10 IT Outsourcing vendors in Vietnam
4. Ukraine
Ukraine has been one of the leading IT outsourcing countries in Eastern Europe for the last couple of years. This has been confirmed by several technology-related international ratings.
Cost

: $25–$45 per hour

Time zone

: GMT+2

Human resources

: Ukraine has more than 200 thousand talent in the IT sector. The industry has grown by 20% in 2021. The Ukrainian education system has over 30,000 students in IT-related programs/courses. 

Communication

: 84.8% of software professionals are proficient in English.

Skill set

: Ukraine has strong expertise in advanced technologies: 3D printing, AR / VR, Blockchain, IoT, Biometric Authentication, and Beacon Technology. In terms of vertical industries, Ukraine is confident in Fintech, Manufacturing, Healthcare, Retail, E-Commerce, High Tech; Energy, Oil & Gas; Agriculture. The country is specifically known for its C++ programmers.

Politics & culture: Ukraine is a mixture of Western and local features, making it easy to be compatible with international clients.
5. Poland
Poland is a popular IT outsourcing country for European clients and is considered one of the friendliest European "homes" for software engineers.
Cost

: $25–$50 per hour

Time zone

: GMT+1

Human resources

: Poland has 295,3 thousand employees in the software development industry.

Communication

: Approximately 30% of Polish citizens are fluent in English.

Skill set

: Poland has specialized experts in finance and accounting. The most outsourced services recorded are IT services, web development, and PHP programming outsourcing. The most common software languages in this country are Java, PHP, Python, Ruby, and Shell.

Politics & culture: Poland has strict safety regulations, which help to secure software development projects, customer data, as well as other business data.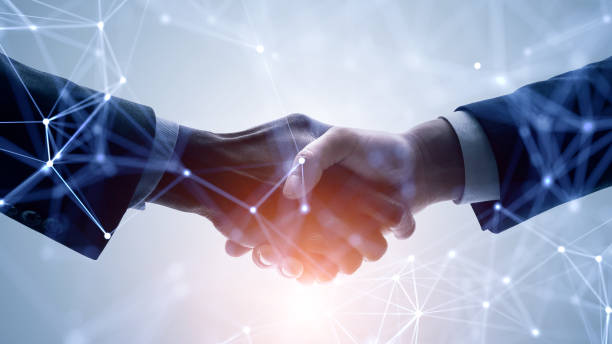 It can be a little tricky to find the best IT outsourcing country for your business development and requirements. Looking deeper into long-term gains might be something to keep in mind during this decision-making process. 
VTI has been building reliable relationships with partners from various parts of the world. If your business is currently in need of an outsourcing vendor, do not hesitate to contact us. 
VTI – Innovation Technology Value
Hotline: (+84) 24 7306 9996
Email: [email protected]
Facebook: VTI